Corvette Servo (part number NTP-K51828C)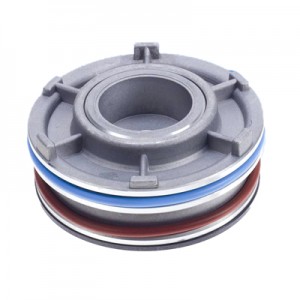 Arguably one of the most inexpensive, yet most rewarding upgrades to your 700R4 or 4L60E (4L65E, 4L70E) transmission is the corvette servo. Right away you will notice faster and firmer 1-2 and 2-3 shifts. The corvette servo will give your transmission 50% more apply pressure, which is just what you need to keep from burning your transmission up under heavy load situations. The corvette servo is a must for any performance vehicle, for towing, RV, or off road use, and is a positive upgrade for any 700R4 or 4L60E transmission. Our servo is easy to install and can be done with the transmission in the vehicle. The servo comes with all of the necessary seals for installation; including the outer cover o-ring, as well as three pages of instructions with diagrams.If you have already decided to install a corvette servo, your next question might be whether or not you should use the corvette servo with the longer pin instead. Here's how to decide.
Corvette Servo with Longer Pin (part number OPT-CV-Pin)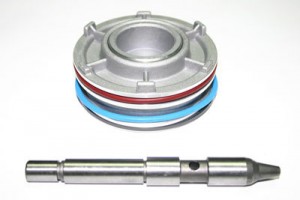 After a short amount of time, by 30,000 miles or so, the band has been broken in and the servo travel has increased a lot.  Too much servo travel can cause a delay in shifting, a longer 1-2 and 3-4 shift, as well as a slide-and-bump-into-gear type shift.  By 100,000 or more miles, the band is wearing out and then you are at the point where the servo almost cannot travel far enough. Once it is beyond the travel of the servo, it will burn up the transmission.  The longer pin is designed to take up that slack and prevent the servo travel.    You can actually test your current travel now.  Just get underneath it and with a pry bar, push in on the cover of your servo.  If it goes in more than 1/8″, you definitely want the longer pin.  The clearance should be closer to around 1/16″.Please note:  If you are installing, or already have installed, a shift kit, you will likely not need a longer servo pin.  Most shift kits are designed to address the servo travel issue already.Another option to consider is the 4th gear Billet Super Servo.
Billet Super Servo 4th Gear Apply Piston & Cover (part number SUP-K034)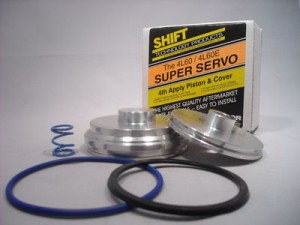 The 4th gear billet super servo is a tremendous product that addresses the 3-4 shift.  You will find better holding capacity in 4th gear, as well as an overall firmer 3-4 shift. The servo has an excellent design that includes a lip seal on piston that allows for much less leakage, as well as a  proper 4-3 (no drag) release. To top it off, this servo is constructed of billet aluminum and is built to last. The 4th gear super servo in conjunction with the corvette servo will solidify your transmission shifts from start to finish while giving overall life to the transmission and vehicle.In some cases, we have noticed during installation that the 4th gear servo does address some of the clearance problems as well as decreasing some of the servo travel;  basically eliminating the need for the longer servo pin.
As always, if you have any other questions or need any product recommendations, please feel free to contact us at salesdesk@optsales.com.