The 4L60E/4L65E/4L70E and 4L75E transmission is one of the most popular and most frequently asked about transmissions.  A common question regarding the 4L60E is, "what upgrades do you recommend while I have the transmission out, and what can I do if I don't want to take the whole thing apart?"
If you are ready to take the transmission out and do the whole thing only once, the parts we typically recommend consist of the following:
Rebuild manual

Rebuild kit

Shift kit

Accumulator pistons

Separator plate

Torque converter

Electronics
If you are only interested in tackling what can be done with the transmission still in the vehicle, you can still accomplish quite a bit with the following items:
Shift kit

Separator plate

Accumulator pistons
Outlined below are each of the items we recommend, a description and the corresponding part number on our site.  If you have any questions, please feel free to contact us at salesdesk@optsales.com.
REBUILD MANUAL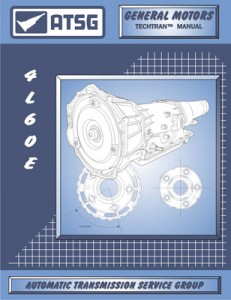 ATSG is the leading manufacturer of technical rebuild manuals for automatic transmissions.  Their manuals are excellent resources for DIY-ers and professional shops alike.  If you are planning to rebuild your transmission on your own and do not already have a good resource manual, we highly recommend this product from ATSG.  This 4L60E manual will cover the GM THM 4L60-E Transmission found in 1993 and up trucks and vans, 1994 and up passenger cars. The manual covers assembly, dis-assembly, diagnosis, troubleshooting, and electronic controls & operation.
REBUILD KITS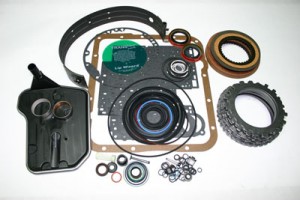 We offer two versions of a 4L60E rebuild kit: a standard better-than-stock package, or the high performance rebuild kit.  The standard kit featured above is part number OPT-4L60E-RB and features everything you see in the first photograph.  Please note you will need to select your year from the drop down menu.  If your year is 1997 and newer, the kit will include the molded piston kit as well so it does cost a little more than the others.
If you are looking for a high performance rebuild kit, we carry that as well under part number OPT-4L60E-RBHP.  The HP kit comes with everything you see in the second photograph above, including Red Raybestos Stage 1 clutches, Kolene steel plates which includes the 8 clutch 3-4 pack, new filter, a Kevlar band and full bushing kit, as well as a Transtec full gasket set.  Either kit will give you terrific performance and noticeable strength.
SHIFT KITS
Depending on what kind of performance you are after, we typically recommend one of two shift kits:  either the TRG-SK4L60E, or the TRG-4L60E-HD2.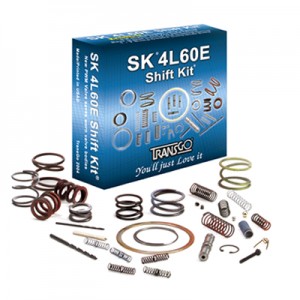 The Transgo SK 4L60E corrects, prevents, and reduces problems associated with code 1870, trouble light & hard 1-2 shift performance.  It also fixes harmonic bounce that wears out pump and valves and causes
shuttle shifts. This kit has a new design isolator valve that works perfect in worn bore without requiring special tools or machining.  It is probably one of our most popular shift kits.
The other option is the more aggressive kit, the TRG-4L60E-HD2.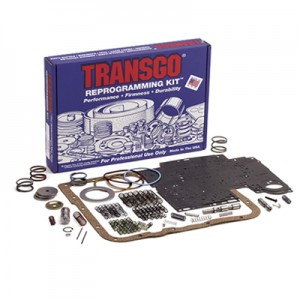 The Transgo 4L60E-HD2 is meant for crisp muscle car or full race shift performance.  It puts the driver in command as it will holds 1st, 2nd, 3rd to any speed.  In addition, it allows backshifts to 3rd, 2nd & 1st by moving the lever.  This is a strong shift kit that will deliver impressive performance.
ACCUMULATOR PISTONS
With any 4L60E rebuild we always recommend replacing the stock accumulator pistons as they tend to break often and can ruin your transmission.  We suggest replacing the forward accumulator piston (part number SNX-77987-01K) and the 1-2 accumulator piston (part number SNX-77998-03K).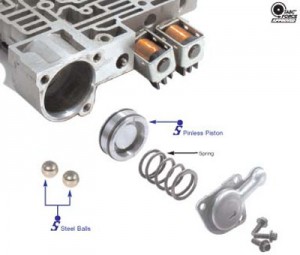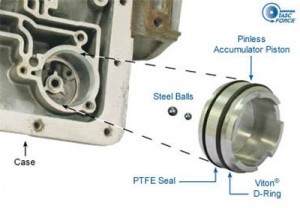 SEPARATOR PLATE
It is typically always a good idea to change your separator plate at the time of rebuild.  The checkballs produce a lot of wear and tear on the plate which can lead to poor shift quality and shorter transmission life.  Depending on your year, we have several different plates available.  One of the most common year ranges is 1996-2006 which is covered by part number TRG-46-PLT-96.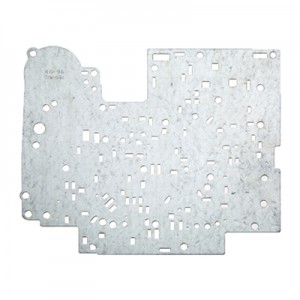 TORQUE CONVERTER
We always recommend changing your converter at the time of rebuild since you will not want to use the old, contaminated fluid that is in your current converter and circulate that through your brand new ransmission.  Depending on your year however, you may need to provide the 4-letter code from your existing converter.  We may also need to know your engine in order to match you with the right replacement.  These points may be addressed quickly through email by contacting us at salesdesk@optsales.com.
ELECTRONICS
Finally, depending upon your year, you might consider replacing your vehicle electronics as well.  Over time the electronics wear out and eventually will burn up the transmission.  The part number you need for a full electronics kit is ORE-4L60E-EL. Be sure to select your year range from the drop-down menu.
If you only want to tackle what can be done with the transmission still in the vehicle, you can still accomplish quite a bit with replacing just the separator plate, a shift kit, and the accumulator pistons.
HIGH HORSEPOWER UPGRADES 
We can also address higher horsepower applications with in-stock products such as the Beast Sun Gear shell / Sonnax Smart shell, unbreakable pump ring kit, low reverse sprag, forward sprag, corvette servo, 4th gear billet servos, and the billet 2nd gear servo .
For additional information or questions regarding this or any other transmission, please feel free to contact us at any time via email at salesdesk@optsales.com .