The RE5R05A transmission and common cooling problems
It may still be snowing in many parts of the US, but warmer weather is right around the corner.  We know that the sunshine brings many of us out of our shop hibernations with the anticipation of more time on and off the road and track.
One transmission that we repeatedly see many questions about is the RE5R05A from Nissan.  This is the tranny you will find in vehicles like the Frontier, Xterra and Pathfinder.  It is also found within the Titan, Armada and Navara, to name a few.   While an extremely popular transmission, it also comes with a popular problem:  the radiator often leaks water into the transmission fluid which eventually burns up the transmission.  Most people discover this problem after the transmission has blown.  Others, while they may still have an operational transmission, are surprised and dismayed to discover the leak.  If there is water in the fluid, it's too late to save the tranny.
The solution to a burned transmission of course is to rebuild it.  Oregon Performance Transmission stocks a complete, solid kit for the RE5R05A (part number OPT-RE5R05A-RB) as well as many other products and upgrades. 
One preventative solution to this leakage problem is to bypass the radiator with an external cooler, thereby eliminating the need for the radiator all together.  You can effectively get rid of the problem before it even has a chance to occur.  Depending on your vehicle's space, we suggest installing the largest external cooler possible.  The brand we trust the most is Tru-Cool by Dana Corporation.  They are manufactured in Canada and are solid, strong and extremely well-built.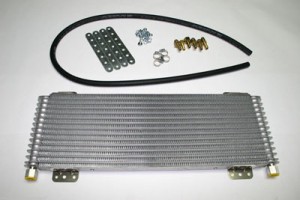 Remember, the Tru-Cool coolers are not vehicle-specific, they are space-specific.  If you can fit a 40,000 GVW cooler in your truck, we highly recommend doing so.  
For additional information about any of the products mentioned here, or to answer any other questions, please feel free to contact us at salesdesk@optsales.com.  It's not too late to save that transmission!